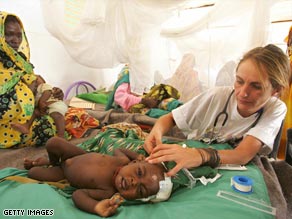 UNITED NATIONS (CNN) -- More than one million people in Darfur are at risk of losing food, water and shelter in coming months, following the expulsion of international aid groups by Sudan's government, the United Nations' chief humanitarian coordinator said Tuesday.
The statement by coordinator John Holmes comes after a joint U.N.-Sudanese assessment of the situation.
The information was gathered from March 11-18 in hopes of stemming further troubles in Darfur after Sudan's government expelled 13 international relief organizations from the wartorn region.
The announcement came on the same day that President Omar al-Bashir, now an indicted war criminal, ignored the threat of arrest by traveling abroad to Eritrea. Also Tuesday, a Sudanese staffer working for a Canadian relief group was shot dead in Darfur.
A full report of the assessment will be released soon, according to the U.N., but an executive summary and recommendations were made available on Tuesday.
Read more >>>>>>>>>>