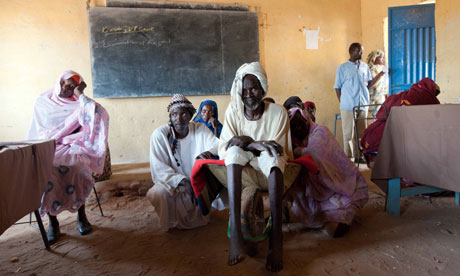 Darfur no longer commands the headlines it used to, especially in 2004 when ethnic African tribes – the Fur, Masalit and Zaghawa – formed a broad alliance against Khartoum because of long-held grievances, including marginalisation and human rights abuses by Arab supremacist groups.
The Sudanese government responded by unleashing the
janjaweed
(Arabic for devil on horseback) militia on the rebels. The
janjaweed
carried out a campaign of murder and rape that drove more than a million black African villagers from their homes in the western region of Darfur.
In 2009,
the international criminal court (ICC) indicted Omar Hassan al-Bashir
, the Sudanese president, and issued an arrest warrant for Abdel Raheem Muhammad Hussein, the defence minister, for war crimes in Darfur.
Sudan
retaliated by expelling several foreign humanitarian organisations, accusing them of helping to build the charges against Bashir. The groups were thrown out despite their insistence they were independent and had no connection with the ICC. Among the NGOs expelled were Oxfam, Care and Save the Children.
The two men remain at large and Darfur largely disappeared from the news pages as the region lapsed into an uneasy calm – until this year. More than 700 people have been killed in clashes between rebels and government troops as well as in tribal unrest and criminal incidents, more than for the whole of 2011, according to UN peacekeepers.
Read more >>>>>>>>>>>>>>>>>>>>>>>>